CYPRESS, Texas, March 21, 2018 (GLOBE NEWSWIRE)–Drake Plastics Ltd Co. announces the introduction of Drake PAI 4200, a new grade of PAI which is available in Rod, Plate and Seamless Tube for machining, as well as offering injection molded parts. Drake PAI 4200 is Torlon 4000 T resin which has been compounded into pellets, making it suitable for extrusion or injection molding. Drake PAI 4200 is a temperature extreme capable, high purity and high-performance thermoplastic for parts requiring the performance of unreinforced PAI such as Torlon 4203, but without the TiO2 which is considered a potential contaminant in some applications. According to Drake's Commercial Director Mike Oliveto, many customers, especially those in the semiconductor industry, require the purest polymers are used in their processes. This product is the cleanest and purest PAI for machined parts according to Oliveto.
The physical properties of Drake PAI 4200 are similar to those of Torlon 4203 with a 20,000 psi tensile strength plus all the heat resistance of Torlon 4203. The Torlon 4203 formulation includes a few percent TiO2 as a pigment to make a distinctive yellow/gold color. PAI has long demonstrated better resistance to plasma compared to both PEEK and polyimides within the etching processes used to manufacture computer chips. Concerns about the release of TiO2 has long worried leading semiconductor chip manufacturers. The utilization of Drake PAI 4200 alleviates the concern that titanium dioxide particles released during plasma etching may contaminate the nano-scale topography of today's micro circuitry.
Drake PAI 4200 is stronger and stiffer over a broad temperature range than both PEEK and PI as seen in the below graph.
PAI: Superior to PEEK & PI at All Temperatures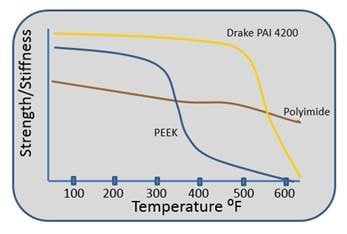 The appearance of Drake PAI 4200 is a medium brown, like that of Torlon 5030 but 4200 does not contain any glass fibers, making it easier to fabricate.
Rod, Plate and Seamless Tube are now available over Drake's entire range of stock sizes on a made-to-order (MTO) basis.
Seamless Tube is a registered Trademark of Drake Plastic Products, Inc.
Torlon is a Registered Trademark of Solvay Specialty Polymers
About Drake Plastics
Founded in 1997, Drake Plastics pioneered the production of stock shapes from glass reinforced Torlon 5030 in support of the Javelin Missile Program. Drake offers a continually expanding portfolio of machinable shapes, injection molded parts and precision machined components from Torlon and specialty PEEK. Drake is an ISO 9001-2008 registered, lean manufacturer. Waste and inefficiency are relentlessly driven out contributing to Drake's ability to develop and produce unique, high quality engineering plastic products. Drake delivers to customers around the world, on time with exceptional service and support.
Drake Plastics Ltd. Co., The Torlon Specialists, Drake Research Ltd., and The Specialty PEEK Specialists, use the Seamless Tube® Trademark under license from Drake Plastic Products Inc. Learn more at www.drakeplastics.com
Press Contact:
Susan Racca
(281) 255-6855
susan@drakeplastics.com
For More Information:
Mike Oliveto
(281) 255-6855
inquiries@drakeplastics.com