Ultra High-Performance Stock Shapes
Unmatched Size Range | Peak Quality and Consistency | Fast and Reliable Delivery
Drake Plastics' stock shapes made from ultra high-performance polymers allow customers to machine precision-engineered parts quickly and economically.
Our stock shapes portfolio comprises unreinforced, wear-enhanced and glass and carbon fiber-reinforced grades of Torlon® PAI, Victrex® and Solvay KetaSpire® PEEK and High Temperature KetaSpire PEEK XT. Drake also developed the technology to extrude 40% glass-reinforced Ryton® R-4 PPS shapes, and Seamless Tube® made from Ultem™ 2300 PEI, a 30% glass fiber-reinforced formulation. Each of these high-performance thermoplastics offers uniquely different properties combinations to fulfill diverse and demanding application requirements.
Over two decades of experience has built our reputation as a specialist in extruding ultra high-performance thermoplastics into rod, plate, our unique Seamless Tube® and thin sheet and film. Drake's unmatched variety of sizes and configurations in these high-performance thermoplastics assures the most cost-efficient shape for each machined part. Our product and process development focuses on new stock shapes materials and configurations that extend the benefits of these high-performance thermoplastics to more applications. Our quality standards are the industry's most rigorous. And our ongoing investments in inventory and capacity assure consistently fast turn-around on large and small orders.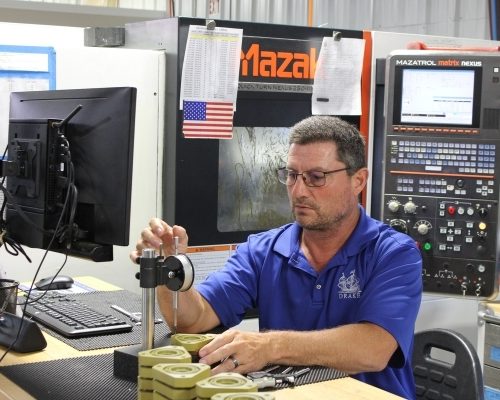 Torlon PAI, Drake PAI Rod, Plate, Seamless Tube® and Thin Sheet
Torlon PAI has the highest structural and compressive strength at elevated temperatures among melt-processable thermoplastics. On thermal performance under load, it stands well above other thermoplastics with its glass-transition temperature (Tg) or softening point of 537°F (280°C).
Drake extrudes stock shapes in 10 grades of Torlon PAI. They include unreinforced Torlon 4203/4203L PAI, 30% glass fiber-reinforced Torlon 5030 PAI, Torlon 7130, a 30% carbon fiber-reinforced grade, and several bearing and wear formulations. Shapes that Drake produces from commercially available Torlon PAI resins carry the Torlon® brand. PAI shapes made from specialty PAI formulations carry the Drake PAI trade name. These include Drake 4200 PAI shapes and Drake PAI thin sheet and film.
Torlon PAI rod diameters range from 0.125" (3.2mm) up to the world's largest at 10.125" (256.7mm). Torlon PAI plate is also available from Drake in thicknesses from 0.080" (2 mm) to the industry's largest plate thickness at 4.0" (101.6 mm). This unparalleled size capability opens the performance advantages of this ultra high-performance material to parts with dimensions previously unattainable in precision-machining.
Torlon PAI grades are also available in the form of Drake's Seamless Tube, a Drake development that eliminates weak weld lines typically associated with traditional extruded tube and injection molded Torlon PAI tube blanks. Available in an extensive range of OD/ID configurations, Torlon PAI Seamless Tube minimizes material loss and provides far greater efficiency in machining circular configurations vs. drilling out solid rod. The elimination of weld lines also affords consistently high strength throughout each machined part. Learn more here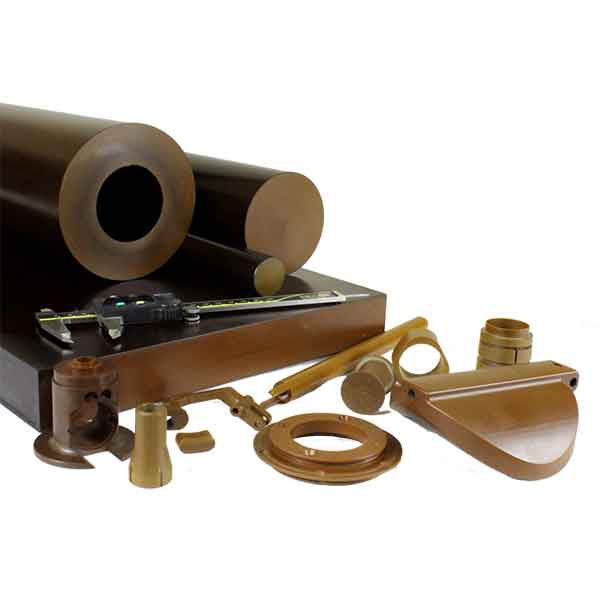 PEEK and High-Temperature PEEK Rod and Plate
KetaSpire® PEEK, Victrex® PEEK, Drake PEEK
PEEK has impressive all-around physical properties and withstands long-term exposure to high pressure steam, hot water and many highly aggressive chemicals. Drake produces stock shapes from this ultra high-performance thermoplastic in unreinforced grades, 30% glass fiber and 30% carbon-fiber reinforced formulations and PEEK resins with additives that further improve the material's inherently good bearing and wear-resistance properties.
Drake identifies its PEEK rod and plate products with the grade designation of the Victrex® PEEK or the Solvay KetaSpire® PEEK resin used so customers know exactly what they are getting. These premium shapes are available from inventory in a full range of sizes up to 10-inch (257 mm) diameter rod and 4-inch (101.6 mm) thick plates, the largest sizes in the industry.
Industrial Grade PEEK Rod and Plate
Drake also supplies unfilled, bearing grade and 30% glass and carbon fiber reinforced PEEK rod and plate under the Drake Industrial Grade PEEK designation. These four grades are offered at a lower price point for applications that do not need the full certifications to Mil-P 46183 and other standards that accompany our PEEK stock shapes produced from most Solvay and Victrex resins. Products labeled as Drake Industrial Grade PEEK are offered to compete with other commercially available PEEK stock shapes that are injection molded, extruded or compression molded and are supplied with generic certs that describe the resin composition and specific gravity range but do not include Material Test Reports (MTR).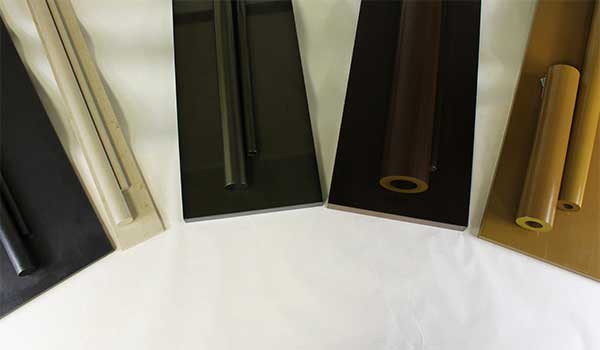 High-temperature PEEK XT stock shapes are extruded from Solvay's KetaSpire PEEK XT resins. With the 2:1 ether-to-ketone ratio of a true PEEK polymer, PEEK XT has the same superior chemical resistance that PEEK offers over PEK, PAEK and other polyketones.
Compared to standard PEEK, High Temperature PEEK XT has a 36°F (20°C) higher glass transition temperature (Tg) and offers a significant step-up in high temperature electrical and mechanical properties. Its Tg also exceeds that of HT PEK by 18°F (10°C).
KetaSpire PEEK XT resins include an unreinforced grade and formulations reinforced with either 30% glass or 30% carbon fiber. While developing a comprehensive inventory, Drake is quoting rod and plate in all grades on a made-to-order basis.
Drake CryoDyn™ CT-200 stock shapes offer a higher performance alternative to PCTFE for machined seals and related components exposed to cryogenic temperatures.
PCTFE, a fluoropolymer widely used for sealing applications, was initially supplied under 3M's discontinued Kel-F® trade name. It is now branded as Neoflon® PCTFE and manufactured in Asia. Supply constraints led to demand for a PCTFE alternative with no compromise in performance.
Drake extrudes CryoDyn CT-200 stock shapes from Victrex CT™ 200 resin in a range of sizes. The specially formulated polyaryletherketone-based polymer provides an upgrade to PCTFE in properties important to effective sealing in cryogenic applications. It also performs effectively in environments to 302°F (150°C) and beyond, where polyaryletherketones have a long history of proven performance.
Drake's processing conditions are a key factor in maintaining the CT-200 resin's full performance capabilities. Physical properties testing demonstrates that CryoDyn CT-200 stock shape properties are comparable to Victrex's CT-200 resin data sheet values. To reflect this parity, Drake uses the Victrex CT-200 designation in the CryoDyn CT-200 brand name.
Victrex CT-200 resin is specially formulated for improved bearing and wear performance. Parts machined from CryoDyn CT-200 shapes exhibit lower frictional resistance than PCTFE and provide longer service life for cryogenic ball seat valves and similar applications based on laboratory tests of CT-200 resin conducted at -321°F (196°C). Other performance advantages of CryoDyn CT-200 as a PCTFE alternative include its dimensional stability and creep resistance under load, contributing to sealing integrity over a wide temperature range.
Design engineering note: PCTFE has a much higher elongation than CryoDyn CT-200. As a result, some component design differences such as thinner sealing sections should be expected with CryoDyn CT-200 as a PCTFE alternative for parts to function properly given CT-200's higher strength and lower elongation.
CryoDyn is a Trademark of Drake Plastics Ltd. Co.
Victrex CT is a Trademark of Victrex plc.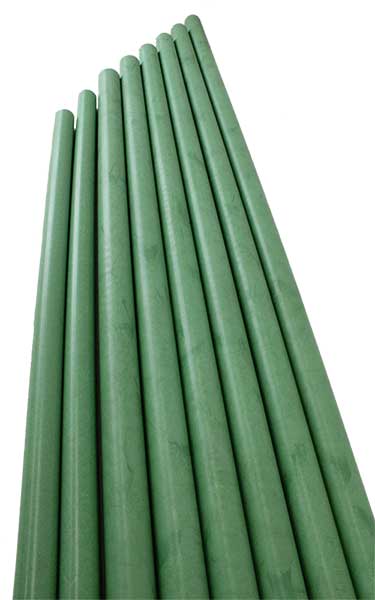 Victrex® HT™G45 PEK, a high-performance polyketone polymer, offers somewhat greater thermal performance under load than traditional PEEK. It has a 15°F (9°C) higher glass-transition temperature (Tg) than standard Victrex 450G PEEK and its compressive strength of 20,300 psi (140 MPa) provides approximately a 10% increase to deformation under load than PEEK at 18,130 psi (125MPa).
Drake offers HT G45 PEK in a range of plate thicknesses up to 1.5" (38.1mm) and rod diameters to 4.0" (101.6mm), with other sizes available in reasonable minimums on a made-to-order basis.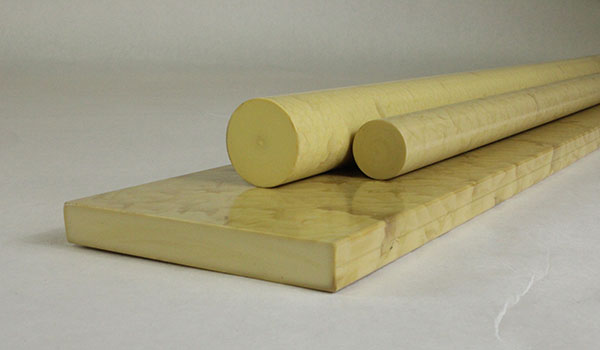 Ryton R-4 PPS, a 40% glass fiber reinforced semi-crystalline thermoplastic, has no known solvents below 392°F (200°C), making it an ideal candidate material for chemical processing and oil and gas applications. It also exhibits inherent flame resistance with a UL 94 V-0 flammability rating, excellent electrical properties and high mechanical strength.
Fiber-reinforcement significantly improves the toughness and boosts structural and thermal properties of Ryton R-4 over unreinforced PPS polymer. Its 40% glass fiber content delivers a two-fold increase in heat deflection temperature and more than triple the flexural modulus over unfilled PPS. These are the main factors behind the far more prevalent applications of Ryton R-4 PPS over unfilled grades for load bearing machined parts exposed to high temperatures.
Drake developed the technology to extrude 40% glass fiber reinforced Ryton R-4 PPS rod and plate. They deliver consistently high quality and machinability compared to the often brittle and inconsistent variations encountered with compression-molded and ram-extruded glass-filled PPS products. Drake's Ryton R-4 sizes range includes rod from 0.5" (12.7mm) to 3.0" (76.2mm), and plate from 0.250" (6.35mm) up to 1.50" (38.1mm) X 12 (305mm) wide with custom sizes available on request.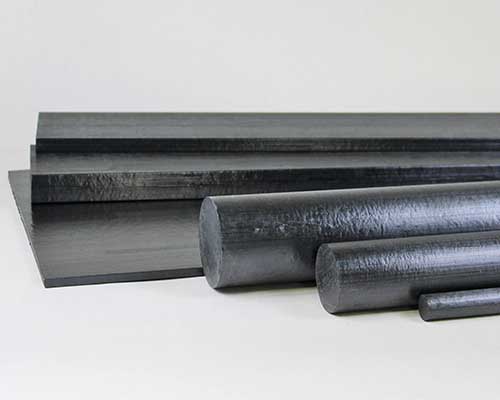 Ultem PEI retains its strength up to 390°F (200°C), resists thermal oxidation long term, exhibits good electrical properties and offers inherent chemical and flame resistance. It also withstands extended exposure to steam and hot water, a benefit for many medical and dental instrument applications.
The most widely-used fiber-reinforced Ultem PEI formulation is 30% glass-reinforced Ultem 2300 PEI. The fiber reinforcement adds exceptional strength and stability to the other inherent properties of the PEI polymer.
Drake Plastics developed the process technology to extrude Ultem 2300 PEI in the form of Seamless Tube®. It ideally serves applications such as seal rings that are most economically machined from a tubular configuration. It also affords uniformly high hoop strength with its seamless no-weld-line cross-section. Ultem 2300 Seamless Tube is available in a wide range of OD/ID combinations from inventory and with fast turn-around on made-to-order sizes. Drake also offers other grades of Ultem PEI on request, typically with modest minimums.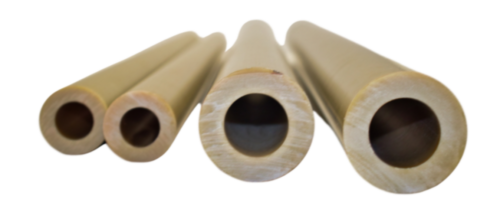 On performance, PAEK falls between PEEK and high-performance thermoplastics such as Ultem PEI and Torlon PAI. Its glass-transition temperature (Tg) of 316°F (158°C) is somewhat above that of PEEK, but well below PAI's Tg of 537°F (280°C). While PAEK resists a broad range of chemicals, PEEK's polymer structure gives it an edge in that area of performance.
With strength retention over 300°F (150°C) and good all-around mechanical properties, PAEK can be alternative to PEEK, depending on the mechanical stresses and the chemicals involved. In high quantities, it can also be an economical option to PEEK where the application conditions permit.
Drake offers AvaSpire PAEK in an unfilled grade and in formulations reinforced with 30% glass and 30% carbon fibers. Standard rod diameters range from 0.5" (12.7mm) to 1.25" (31.8mm) Other rod diameters as well as plate are available on request.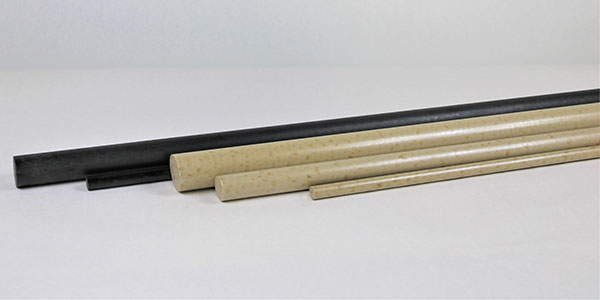 Product Development Driven By Customers' Requirements
Every stock shape Drake Plastics produces originated from a customer's need for a material and configuration that others could not or would not produce. In all cases, Drake developed the processing conditions and the extrusion equipment required to convert these high-performance materials into stock shapes with the optimum properties and quality each application required. Our product line continues to expand as customers work with us to develop stock shapes in new sizes and thermoplastic materials needed for their applications.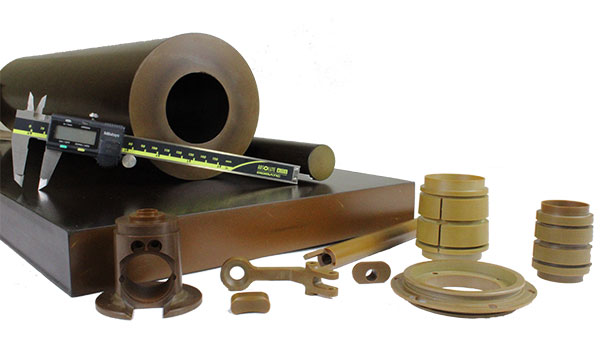 Peak Quality, One Piece at a Time
Drake Plastics' Quality Management System is certified to the worldwide aerospace industry's AS9100D(2016) and ISO 9001:2015. The rigorous requirements of these standards apply to all customers' orders. We engineered our hardware and systems and manage process conditions to deliver the highest possible level of properties and quality for each high-performance thermoplastic we extrude.
Our goal is to produce one flawless product at a time. Our single-piece workflow in extrusion helps us achieve it. This approach to manufacturing utilizes small quantities of each polymer in short runs to minimize defects from degradation. Tightly controlled process conditions and Drake-engineered extruders and tooling ensure product stability and consistency. Taken together, these components of Drake's single-piece flow processing also help minimize camber. As machinists know, stock that is not straight causes vibrations in the work piece that affect surface finish, tolerance, and yield.
Compared to high-volume production, single-piece flow increases our cost per piece and reduces output significantly. However, our customers' stream of repeat orders confirms the value of the premium quality that single piece flow delivers. This supports our commitment to invest in the capacity to maintain it.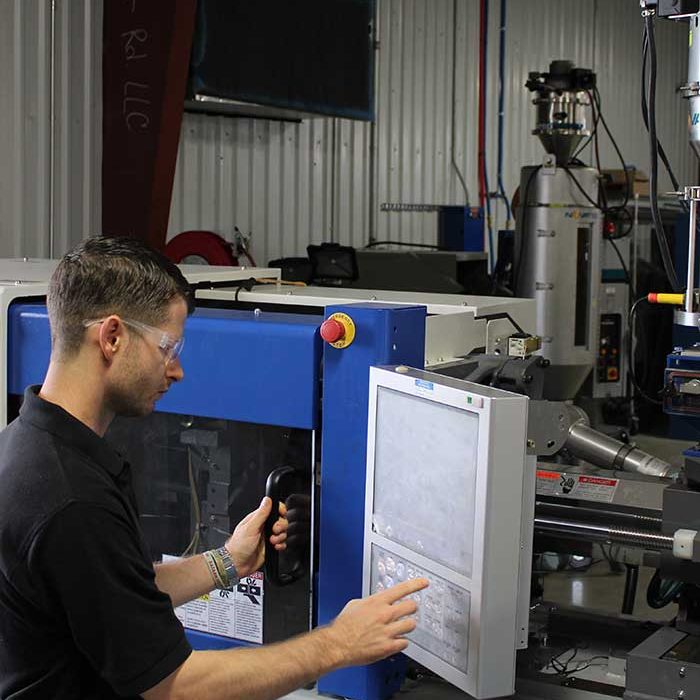 Investing for 100% Customer Satisfaction
Drake Plastics' stock shapes manufacturing and inventory investments are based on delivering what customers want when they want it, 100% of the time. That requires production and service investments based on maximizing customer value rather than machine utilization.
The range and diversity of sizes in all our ultra high-performance thermoplastics is unmatched in the industry. Rod and plate inventory includes new polymers from resin suppliers so that customers can evaluate their potential benefits with machined prototypes. Diameters and thicknesses unavailable elsewhere open new application possibilities for our customers. Flexible production capacity supports rapid turn-around on custom and make-to-order products.
Drake's on-time delivery performance on stock shapes is 98% or better. 100% customer satisfaction is the norm and determines our ongoing service-based investments.