Drake Plastics' Quality Management System is certified to the worldwide aerospace industry's AS9100D(2016) and ISO 9001:2015. We apply these rigorous aerospace requirements to all customers, regardless of industry.
We specialize in converting a variety of grades of ultra-high-performance polymers into extruded machinable shapes, injection molded parts, and precision machined parts. The Torlon® PAI formulations we process and fabricate include Torlon 4203/ 4203L, 4275, 4301, 5030 and 7130 and other specialty grades. Within the PEEK polymer family, the grades we offer include Victrex 450G, CA30, GL30, FC30 and High-Temperature PEK "HT", as well as KetaSpire KT-820 NT, CF30,GF30 and XT920 high-temp PEEK. Drake also offers Ryton® R-4 PPS, AvaSpire® PAEK and Ultem™2300 PEI.
Our extrusion equipment incorporates Drake-engineered and built hardware and systems that let us optimize and maintain process parameters specific to each material. This rigid control helps ensure consistent quality, appearance and performance. As an added quality assurance measure, Drake's single-piece workflow approach to manufacturing focuses on producing one flawless product at a time.
For both quality and efficiency, Drake also continually invests to maintain state-of-the-art capabilities in our parts manufacturing operations. The CNC equipment in our precision machining facility and the SPC and in-cavity process control of every shot from our injection molding department represent the best available technology for producing ultra high-performance polymers to Drake standards.
In addition, our inspection equipment matches the precision with which we make parts. It includes density verification, CT scanning capabilities, optical comparators, surface finish inspection equipment, CMMs and many other tools as needed to meet customers' requirements.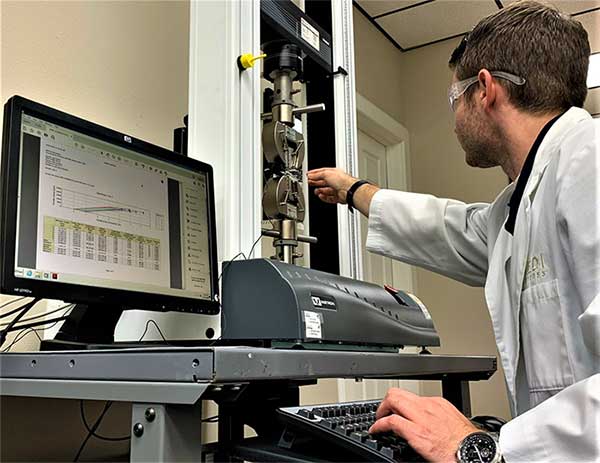 We offer DSC thermal characterization and can provide machined or injection molded ASTM mechanical test specimens and testing services utilizing our calibrated Instron Universal Testing Machine. Injection molded or machined parts also can be tested according to customer specifications and requirements with fixturing specific to each part design.
Lean operating practices characterize all areas of our business. Our team consistently works to improve efficiency and maintain the flexibility to serve customers' needs from prototypes, development work and small lot custom products to high volume manufacturing.
Quality Policy
Drake Plastics pursues perfection in the products we produce and services we render.
At regular intervals, Drake Plastics will review its quality system and objectives and change as necessary to continuously improve both internal and external quality. Resources to solve problems and meet our quality objectives will be allocated with utmost urgency.
Drake Quality System Certifications
Drake Plastics Quality Management System is certified to AS9100D(2016) which also meets all requirements of ISO 9001:2015 and adds the extra requirements needed for aerospace.
Drake Certification
RoHS, REACH and California Prop 65
Drake Plastics does not add any substances or additives during processing, and therefore complies with all RoHS, REACH, or California Prop 65 declarations made by our resin suppliers. For additional information, please Ask Drake.
International Traffic in Arms (ITAR)
Drake Plastics is an ITAR registered manufacturer with the Directorate of Defense Trade Control (DDTC). Our Registration Code is M40148. For additional information, please Ask Drake.
Material Certifications
No-Charge Certifications for All Drake Products
Drake Plastics provides a Certificate of Conformance with all products regardless of polymer composition at no charge. Where specific lot testing is required, certification charges apply.
Torlon PAI Material Certifications
Torlon PAI resins used in our processes meet the requirements of AMS 3670 and ASTM D5204 (replacement for Mil-P-46179A). Where applicable, Hamilton Sundstrand MS29.04, Boeing Specification BMS 8-269, Honeywell MCS7004, General Electric Specification A50TF190 and others can be supplied upon request. Additionally, our Torlon PAI stock shape products are compliant with ASTM D7292. For certification applicability, please Ask Drake.
PEEK Material Certifications
PEEK resins used in our processes meet the requirements of Mil-P 46183. Where applicable, Bell Helicopter 299-947-362, ISO 10993-1, FDA Regulation 21 CFR177.2415, BMS8-317 and others can be supplied upon request. Additionally, our PEEK stock shape products are compliant with ASTM D6262. For certification applicability to specific grades. please Ask Drake.
Ryton® R-4 PPS Material Certifications
Ryton R-4 resins used in our processes meet the requirements of ASTM D4067 and ASTM D6358.
Ultem™ PEI Material Certifications
Ultem resins used in our processes meet the requirements of ASTM D5205.
Additional Drake Product Certifications
Certifications for all grades of the following products will confirm the polymer from which it is made, and that it conforms to the polymer manufacturer's specifications and meets Drake's quality standards:
HT PEK
PEEK 450FE20
AvaSpire® PAEK
Drake PAI
Torlon PAI Post-Curing
Every Torlon PAI product supplied by Drake is post-cured to achieve a typical core Tg value of 540°F/282°C (midpoint). Drake has optimized our post cure cycles to achieve material properties which are required to ensure key properties of strength, toughness, wear, and chemical resistance. This provides customers with strong machinable shapes that make ultra-wear resistant parts as well as structural and electrical components.
Torlon PAI Re- Curing Service
Drake Plastics offers Torlon PAI machined parts complete with re-cure after fabrication when specified. We also support our Torlon PAI stock shapes customers with economical re-cure services at fast turn-around times. Although Drake-produced Torlon PAI stock shapes are thoroughly cured, re-curing machined parts restores the imidized outer layer which forms on PAI at cure temperatures (typically 260°C/ 500°F). This imidized layer optimizes resistance to wear and chemical attack, which may benefit specific components based on their application environment.
Post-Annealing
With the exception of Torlon products which are specially post-cured to optimize properties, Drake anneals every stock shape in cycles customized for both the polymer formulation and the product size. A slow, tightly controlled cool-down from the material's Tg (glass-transition temperature) effectively relieves stresses that can occur from process temperatures and pressures while the polymer is being converted into the final product. This step yields dimensionally stable stock shapes that hold precise tolerances in machining and have optimal physical and chemical resistance properties.
Annealing fiber-reinforced polymers
PEEK, RYTON R-4 PPS, Ultem 2300 and other glass and fiber-reinforced grades
During annealing, an unreinforced or "neat" material's polymer chains move relative each other and "relax" slowly under uniformly controlled cooling conditions to relieve internal stresses. With glass and carbon fiber reinforced polymer formulations, the rigid internal fibers maintain their position within the material matrix during annealing. As a result, the polymer chains are not as free to relax with fiber reinforcement, and annealing, while helpful, has a somewhat lesser effect on reducing internal stresses than in unreinforced materials.
Custom annealing cycles
Custom annealing to achieve specific objectives such as crystallinity targets or dimensional control are available upon request.