In addition to rod, plate and tube stock shapes, Drake offers creative extruded, injection molded and composite solutions to customers' challenges related to performance, yield or product availability. Our team takes a "lean" approach to problem-solving that involves delivering what customers need and what they value relative to its price and performance, while rooting out waste and inefficiency in the process. We couple this lean approach with a customer-centric culture. Within it, our creative engineers and technicians operate in an environment where failure equates to learning 'one more thing that doesn't work' and means we're one step closer to a solution. It draws us in novel, inventive and productive directions that have led to unique and valuable products and capabilities. Many are Drake Specialty Shapes.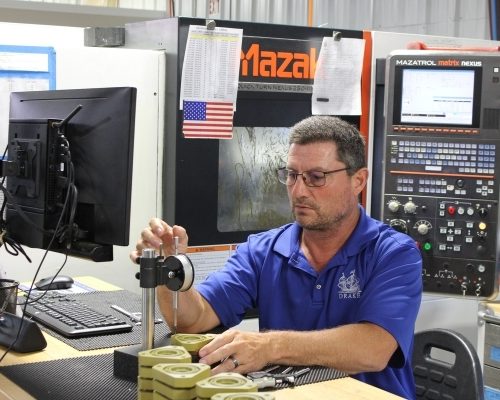 Drake Plastics' machinable Seal Segments are an example of an industry-driven development that improves the performance of seals and significantly reduces their production cost.
Our product and process development team devised a proprietary method for extruding high performance polymers in arcs that match the radius, OD and ID of split bearings and seals. The segments are then finished machined to the precise geometry and dimensions of split or segmented seals, bearings, labyrinth seals or thrust washers.
Compared to traditional approaches, Seal Segments can significantly reduce the number of pieces required to produce a seal ring. Most applications require only two Seal Segments. In large assemblies that historically required many segments, Seal Segments afford the opportunity to produce a seal with fewer pieces. This simplifies assembly and reduces leak paths in the installed seal.
Because they are produced to dimensions close to the finished part size, Seal Segments reduce material and machining costs compared to splitting over-sized compression molded tube or cutting arcs from extruded plate. Strength and toughness achieved by melt-processing high-performance plastics is also superior to shapes produced by compression-molding, a process known to yield high levels of variation in molded products.
Drake offers Seal Segments in all grades of Torlon PAI, Ultem PEI, and PEEK in sizes from 12" (300 mm) minimum and larger with no upper limit. Presently our largest Seal Segment is used to make a 40 ft. (12.2 meter) diameter seal.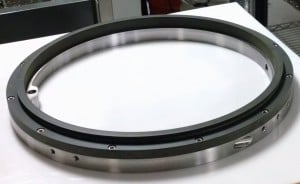 These Drake specialty parts deliver Torlon PAI's superior strength at temperature extremes, toughness, resilience, and its resistance to wear and chemicals to ball and roller bearings applications for a range of diverse industries. The exceptional bearing and wear properties of Torlon 4203L resin from which Torlon balls are made often eliminates the need for external lubrication and can operate in harsh service environments including salt water, a clear advantage over metals.
Applications for Torlon balls and roller bearings include marine winches, swivels, and mast hardware along with other load-bearing applications, and ball bearings for a variety of industrial uses. They are used as check valves for automotive applications, their advantages over metal balls include sealing effectiveness, light weight and quiet operation with no damage to mating surfaces.
Drake's Torlon 4203L balls are supplied with a polished surface (Typical Ra 20- 40 Ra) in standard diameters from 0.125" to 0.625" (3.1 – 15.87mm). Custom and larger sizes up to 4.0"/ 100mm are also available from all Torlon grades as well as from other polymer materials upon request.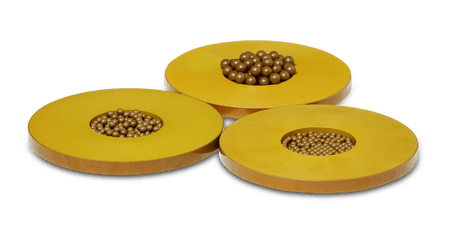 Frac Balls and Activation Balls
Drake Plastics offers a range of CannonballTM frac and activation balls precision-machined from our proprietary ultra-high strength composite "MG" material as well as Torlon PAI and other high-performance thermoplastics. The range of polymers available from Drake for these products allows customers to opt for the material best suited to different seat interferences, target activation or working pressures and downhole environments.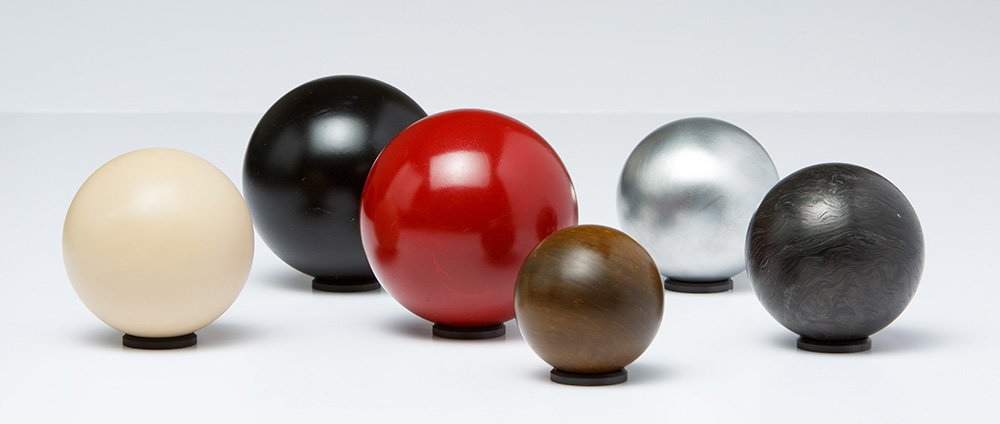 Torlon PAI Cannonballs
Offer superior compressive strength, resistance to deformation under load at high temperatures and toughness compared to other thermoplastic materials. Torlon PAI also inherently resists degradation from typical downhole frac chemicals and hydrocarbons, including H2S (hydrogen sulfide).
Drake MG Composite Cannonballs
Offer superior pressure capabilities approaching 10KSI on seat interferences of less than 2%, and much higher as seat interferences increase. Small seat interference requirements enable many frac zones in a narrow range of sizes. Cannonball MG balls are produced to precise tolerances and are equally strong in all directions. They are also easily drillable.
Cannonball frac and activation balls are CNC-machined to tolerances to within +/- 0.002" (0.051mm). They are available in standard diameters ranging from 0.80" to 4.00" (20.3 to 101.6mm). Drake also offers custom sizes and balls machined from materials other than Torlon and our Cannonball MG composite formulation at minimum quantity requirements on request.
Near-net shapes serve as an efficient transitional step between machining low production quantities from stock shapes, and injection molding finished parts where high part volume levels must be achieved to justify investing in production molds.
This approach to mid-volume production involves extruding or injection molding near-net shapes or blanks to the approximate dimensions of the finished part. Because precision finishes, tolerances and dimensions are not required, near-net shapes can be produced in low-cost injection molding tooling or in Drake modular extrusion tooling. As a final step, the blanks are machined to the required part dimensions, tolerances and surface finish. Compared to machining from stock shapes, utilizing size-efficient near-net shapes as the starting point can yield significant savings in machine operator hours and the amount of material consumed in producing the part to print.
Drake offers near-net shape molding and finishing in all grades of its high-performance plastics. In most cases, the same resin grade used in the original machined stock shape can be molded or extruded into these efficient near-net blanks. Continuity of resin grade is also possible should part requirements grow to levels justifying full production injection molding, another capability that Drake offers to support customers seamlessly through their product's entire life cycle.