Metal processing operations expose tools and components to punishing conditions beyond the capability of most plastics. Drake's ultra high-performance polymers are the exception, with decades of success in providing solutions to the tough challenges of this industry.
High-Performance Material Options for a Tough Operating Environment
Materials for components used in production machinery and tools for metal forming, finishing and plasma cutting must stand up to extremely tough operating environments and conditions. Resilience and resistance to deformation under very high and repeated loads are key criteria for stamping, cutting and forming fixtures. Strength and rigidity at extremely high temperatures are essential for components for steel production furnaces. Plasma cutting torches generate hot operating temperatures and take impacts during regular use inside fabrication shops and outdoors in extreme cold. These conditions make durability and high strength over a wide temperature range essential properties for cutting tool housings and components. In all of these application areas, materials must hold up under routine exposure to the lubricants and chemicals common in a production environment without corroding or becoming brittle.
While plastics' inherent advantages of light weight and thermal and electrical insulation would benefit many applications in metal production machinery, cutting tools, and forming and finishing equipment, few can stand up to the rigors of the different operating environments.
These tough application conditions however mesh well with the property profiles of Drake Plastics' ultra high-performance polymer stock shapes and machined parts. The Torlon PAI family of standard and fiber reinforced grades in particular couple thermal and electrical insulation with the toughness and chemical resistance needed for fixtures, insulators, bearings and other components in metal processing equipment ranging from steel production furnaces to forming and finishing machinery and plasma cutting torches.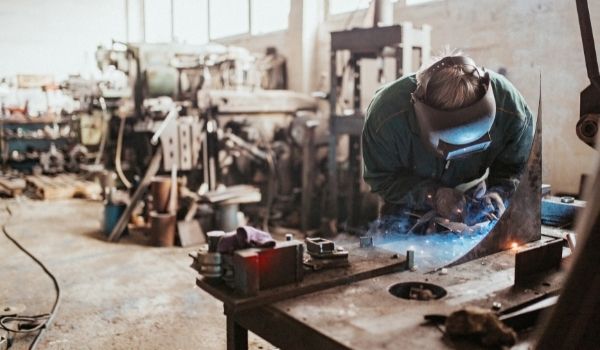 High Strength and Insulation for Electric Arc and Blast Furnace Components
Torlon PAI and PEEK materials are widely used in metal processing and manufacturing for high temperature resistant, non-conductive fittings, insulating connectors and bearings. The strength-to-weight ratio or specific strength of both polymers exceeds most metals. While both polymers are also highly dimensionally stable, Tolron PAI excels with a lower coefficient of linear thermal expansion (CLTE) comparable to aircraft-grade aluminum.
Torlon PAI is unique among thermoplastics in its ability to maintain its structural strength and rigidity at very high temperatures. In hot production operations, its heat distortion temperature of over 530oF (277oC) and creep resistance keep components from deforming under high loads. Bearing and wear properties of this high-performance material are also exceptional.
This property profile has led to the use of different grades of Torlon PAI for electric arc furnace components that must maintain their high strength and rigidity in the hot operating environment. As an example, Drake's precision-machined Torlon 5030 PAI electrode column fittings and connectors provide a long-lasting solution to the need for high strength and non-conductivity in these critical EAF components. Also proven in use as a material for bearing applications, Torlon PAI resists wear and deformation under high loads at extreme operating temperatures associated with electric arc furnaces.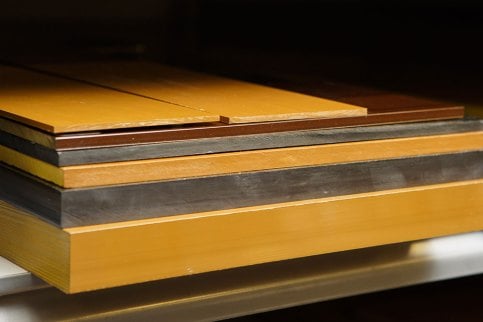 Blast furnaces represent another demanding application area where Torlon 4203 PAI meets the challenges of materials used for critical components.The ultra high-performance material combines the high strength, resistance to deformation under load and dimensional stability necessary to withstand the extreme operating conditions of this steel production process. Its unparalleled physical and thermal properties contribute to its specification for a range of structural, load bearing and wear-resistant applications including blast furnace seals as large as 30' in diameter.
Tough, Heat-Resistant Plasma Cutting Torch Components
Light weight, toughness, strength and stability at high operating temperatures all factor into the use of Torlon PAI, glass-reinforced PEEK and Ultem 2300 for plasma cutting tools. Actual operating conditions determine which of these high-performance thermoplastics provide the best balance of performance and cost. All work exceptionally well as insulating materials to ensure torch bodies and fittings are thermally and electrically non-conductive.
Torlon PAI features properties that make it particularly beneficial as a rigid insulating material given the high operating temperatures involved in plasma cutting. Torch tips machined from Torlon 4203 PAI and Torlon 5030 PAI, a high-strength 30% glass fiber reinforced grade, remain rigid because of the polymer's inherent 532oF (278oC) heat distortion temperature. Both materials provide the electrical and thermal insulation and high temperature resistance these tools require near the cutting tip.
Glass-reinforced PEEK also maintains high strength and rigidity at elevated termperatures and is often specified for insulating components. Glass-reinforced Ultem 2300 in the form of unique and machining-efficient Seamless Tube® adds to Drake's list of high-performance material candidates to meet the performance needs of different plasma cutting torch design and end-use requirements.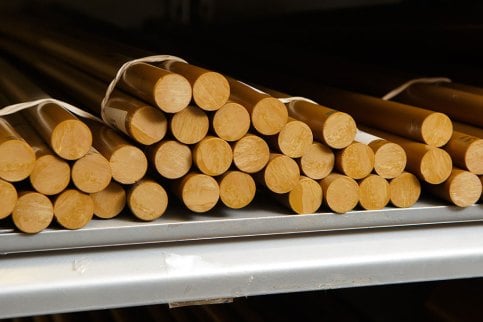 Strong, Resilient Forming and Finishing Tools and Fixtures
Fixtures, jigs and forming tools machined from Drake's Torlon PAI stock shapes have the balance of physical properties necessary to handle the high loads, temperatures and impacts typical of metalworking operations.
In high-speed CNC forming and burnishing of spun aluminum alloy reflectors, shaping disks made from Torlon 4203 PAI have an unmatched level of compressive strength and wear resistance that contributes to long tool life and high productivity. The inherent hardness of Torlon PAI and the ultra-smooth surface achieved on the machined disks yield a consistently higher quality finish than materials previously used for the tools.
This same high compressive strength, wear resistance and surface hardness are factors behind the use of Torlon 4203L PAI for paintless dent repair (PDR) tools used to remedy automotive sheet metal damage. This low-cost method can preclude the need for repainting or full replacement of the sheet metal parts.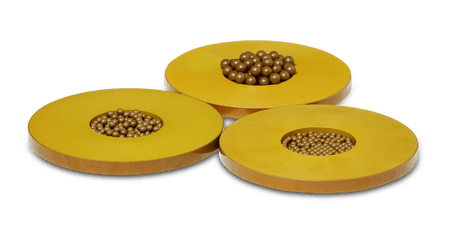 Torlon 5030 PAI features high modulus, a low expansion rate similar to that of aluminum, and low creep. As a result, thermal and electrical insulators, jigs, templates, forming tools and sliding components machined from Drake Plastics' Torlon 5030 stock shapes retain their rigidity and dimensions under load even when in contact with hot surfaces in metal production.
Typical Applications: Ultra High-Performance Polymers in Metal Processing
Electric Arc Furnace electrode column couplings and fittings in Torlon PAI resist high loads and temperatures, are non-conductive and provide thermal insulation.
Blast furnace seals machined from Drake's Torlon PAI and PEEK stand up to high physical loads and extreme operating temperatures.
EAF and blast furnace bearings made from Torlon PAI bearing grades resist wear and provide long-term service.
Plasma cutting tool tips and bodies machined from Torlon PAI, GF PEEK and Ultem 2300 resist deformation and impacts while providing thermal and electrical
Durable fixtures and polishing disks made from Torlon PAI resist wear and afford high surface finish quality.
PDR (paintless dent repair) tools capitalize on the hardness, rigidity and impact strength of Torlon PAI for high durability, long life and quality results.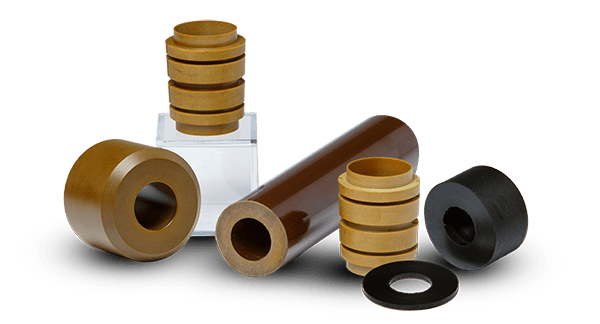 Fast Turn-Around for High-Performance Replacement Parts
Drake Plastics' inventory comprises a wide range of stock shapes and sizes of its ultra high-performance polymers. All are available with same day shipment from stock for machining into replacement parts that minimize production down-time and reduce maintenance hassles and cost.