CYPRESS, Texas, March 23, 2018 (GLOBE NEWSWIRE)—Drake Motorsports Development, LLC was recently formed to accelerate the availability of track proven race parts and to continually develop new racing products from a racing industry insider perspective. The first part developed is an offset control arm bushing machined from Torlon 4435. The bushing delivers an increased static negative camber range of adjustment for the front wheels, which is used as a suspension tuning method to optimize tire contact under high lateral loads. Tyler Quance, owner of Drake Motorsports Development, and the Engineering Manager for Drake Plastics, has been racing a Spec Miata with a set of these bushings since mid-2017. During this time, the bushings have shown no measured wear. The bushing material is self-lubricated and requires no grease, making a totally maintenance-free, non-consumable part which is intended to last as long as the racecar.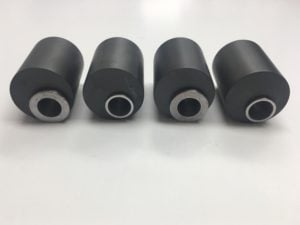 The bushing was designed in collaboration with Chris Haldeman and X-Factor Racing of Princeton, Texas. This collaboration resulted in a decision to supply the bushings already installed in control arms with a steel anti-rotation dowel pin to ensure each bushing stays in place under demanding race conditions, and to finish ream the offset hole after installation for a precision fit with the steel inner sleeve. This process saves the customer a great deal of time and hassle during installation and ensures the bushing set is aligned to deliver maximum available front wheel camber in a ready-to-bolt-on assembly.
The extreme wear resistance and excellent lubricity of Torlon 4435 provides the combination of improved performance and improved part life. This grade and suspension bushing application supplied previously by Drake Plastics, has a pedigree with the Risi Competizione Ferrari race team. Now that Drake Motorsports Development is assembled to expand the accessibility of Torlon 4435 bushings as performance aftermarket parts, Torlon is poised to obsolete traditional bushing materials in higher-end performance and racing applications. According to Quance, "once drivers and race prep shops try Drake Motorsports Development's Torlon 4435 suspension bushings, I expect they will want to use them exclusively."
The second part launched by Drake Motorsports is a high-performance polymer transmission shift bushing machined from Torlon 7130. Prototypes were run in 3 different cars for the NASA Spec Miata Eastern States Championships at Sebring in September 2017 with excellent results. According to Bret Synder, lead crew member for Drake Racing and driver himself, "the shift bushing is almost a forgotten part until it becomes a problem from excessive wear or breakage." The thermoplastic bushing maintains the impact-absorbing characteristics of the OEM Mazda bushing other aftermarket metal replacements cannot. This means internal gearbox components remain isolated from severe hard-shifting impact as designed by Mazda. Torlon 7130 is one of the strongest and most durable polymers making what is generally accepted to be a consumable part one which now lasts indefinitely.
About Drake Motorsports Development, LLC
Drake Motorsports Development, LLC is part of the Drake Plastics family of companies. Utilizing Drake Plastics high performance polymer expertise, Drake Motorsports Development focuses on developing new polymer racing parts for the racing industry. Learn more at www.drakemotorsportsdevelopment.com
About Drake Plastics
Founded in 1997, Drake Plastics pioneered the production of stock shapes from glass reinforced Torlon 5030 in support of the Javelin Missile Program. Drake offers a continually expanding portfolio of machinable shapes, injection molded parts and precision machined components from Torlon and specialty PEEK. Drake is an ISO 9001-2008 registered, lean manufacturer. Waste and inefficiency are relentlessly driven out contributing to Drake's ability to develop and produce unique, high quality engineering plastic products. Drake delivers to customers around the world, on time with exceptional service and support.
Drake Plastics Ltd. Co., The Torlon Specialists, Drake Research Ltd., and The Specialty PEEK Specialists, use the Seamless Tube® Trademark under license from Drake Plastic Products Inc. Learn more at www.drakeplastics.com
Press Contact:
Susan Racca
(281) 255-6855
susan@drakeplastics.com
For More Information:
Tyler Quance
(281) 255-6855
inquiries@drakeplastics.com