High strength, surface hardness, temperature and wear resistance. Bondable to substrates.
In response to customer requests for a thin gauge form of PAI for applications such as electrical insulation and as a substrate bondable to other materials to provide a high performance surface, Drake's technical team developed Drake PAI sheet and film. Unique to Drake Plastics, these forms of PAI (polyamide-imide) are available from our inventory in several thicknesses down to 0.3 mm (0.012 inch). With a performance profile characteristic of our unreinforced PAI stock shapes, Drake PAI thin sheet and film products maintain their high strength and stiffness at temperatures well above 300º F (150º C). They exhibit the chemical resistance and flammability properties that make PAI a frequent choice for high performance in electronic and aerospace components.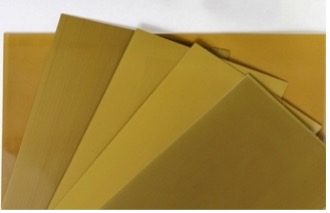 Bonding and Die Cutting Drake Film and Sheet
When bonded to other materials, Drake PAI film and sheet impart a hard, wear resistant and durable protective surface with good electrical properties for applications in high temperature environments. Drake can recommend pressure-sensitive adhesives to provide effective adhesion. Thinner gauges of Drake PAI also can be die cut to fit complex configurations.
Typical Applications Using Drake PAI Thin Sheet and Film
Thin machined parts requiring PAI performance
Thin rigid films for bonding or covering substrates for anti-fretting or reduced friction
Thin rigid films for thermal or electrical isolation
Why Drake PAI Thin Sheet and Film Were Developed
Our customers' need for thin gauge PAI in new applications drove our development of ultra high-performance Drake PAI thin sheet and film. These unique products utilize PAI resins that are unavailable as standard products from traditional sources. Drake's team developed an alternative approach to using standard resins and produced PAI film and sheet with the performance and quality of all our extruded PAI products.
Drake PAI Film and Sheet Certifications and Traceability
As with all our products, we provide no-charge certifications and lot traceability on each shipment of Drake PAI film and sheet. We are investigating the possibility of certifying Drake PAI thin sheet and film to the requirements of AMS3670/1 and ASTM D5204.
Many Custom Sizes Available