High Performance Alternatives to PCTFE for Cryogenic Seals
Drake CryoDyn® CT-100 and CT-200 injection molded parts and extruded stock shapes are produced from polymers developed for cryogenic sealing components used in static services and dynamic sealing applications.
CryoDyn® CT-100 cryogenic grade is an ideal candidate for static components operating in cryogenic conditions. Its counterpart, developed for dynamic cryogenic applications, is designated CryoDyn® CT-200. This grade also provides excellent static sealing performance.
The CT-100 and CT-200 cryogenic polymer formulations were developed by Victrex plc to provide high performance alternatives to PCTFE, a fluoropolymer that has been used historically for these applications but has experienced supply constraints.
Drake CryoDyn® CT-100 and CT-200 Injection Molded Parts
Process conditions play a critical role in delivering reliable properties and performance in high-performance polymer products. Drake Plastics establishes optimum process conditions for injection molding based on melt flow analysis of the CT grades. Molding equipment is sized specific to each resin, and in-mold control systems monitor and maintain optimized process conditions. Our quality protocol includes pre-production measures to eliminate the possibility of cross-contamination with other resins.
Based our rigorous processing measures, Drake Plastics sells injection molded CT-100 and CT-200 parts under the Drake CryoDyn® CT-100 and CryoDyn® CT-200 brand. We apply this branding to our CryoDyn® CT-100 and CT-200 stock shapes for the same reasons. The CryoDyn® name ensures that every molded, extruded or machined product that Drake Plastics delivers has the consistent and reliable performance our customers tested, validated and specified.
CryoDyn® CT-100 and CT-200 Performance vs. PCTFE
One of CT-200's major advantages compared to PCTFE is its lower coefficient of friction, which means that properly designed components can require lower actuation torque. The polymer's higher bearing and wear resistance as validated by Victrex in laboratory testing at -196°C (-321°F) translates into longer service life for cryogenic components.
Surface hardness is a key factor in seal design, and an attribute where CT-200 and PCTFE are nearly identical: PCTFE (DAIKIN NEOFLON M-300H) reports a Shore D hardness of 80 while CryoDyn® CT-200 measures 81 Shore D.
Among the advantages CryoDyn® CT-100 offers over PCTFE for static cryogenic applications are its higher levels of flexural and compressive strength.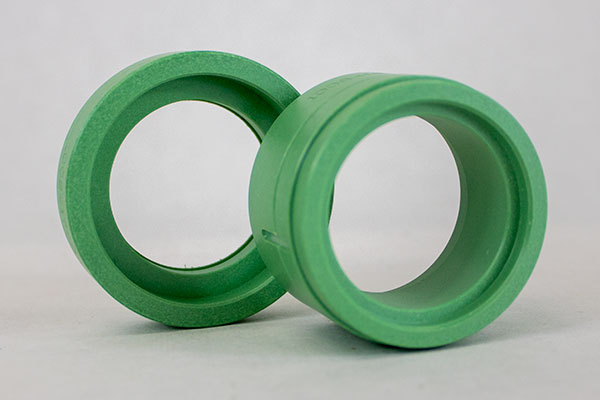 Design Considerations
A key difference between CryoDyn® grades and PCTFE that may require consideration in part design is elongation. At room temperature, PCTFE has an elongation of over 100%. CryoDyn® values range from 10 to 40%. This range is based on its crystallinity, which is influenced by processing conditions, and in particular, cooling rates and annealing. Thus, process control is essential for consistent elongation in molded parts.
Despite the difference in room temperature values, Victrex reports that PCTFE and CT resin grades have comparable elongation values at cryogenic temperatures. Their differences over a range of temperatures, however, indicate some redesign may be required when directly substituting CryoDyn® CT grades for PCTFE.
Quick and inexpensive access to CryoDyn® stock shapes allows customers to test their designs in machined prototypes prior to investing in mold tooling for series production.
Injection Molding Technology Focuses on Quality and Performance in CryoDyn® Cryogenic Components
Drake Plastics' injection molding equipment, control systems and quality management protocol are designed to optimize the properties and consistency of the components made from CryoDyn® cryogenic polymers.
Melt Flow Analysis Guides Tool Design and Process Conditions
Melt flow analysis provides guidance on the ideal tool design and injection molding conditions for CryoDyn® CT grades. Proper tool design coupled with optimal process conditions are two key factors that contribute to maintaining the polymers' properties. They also play a role in minimizing internal stresses that can cause dimensional stability problems over wide temperature swings. Both factors are essential to effective performance in seals and related components for turbines, valves, pumps, and other equipment used in cryogenic environments.

Pre-production Quality Protocol
Drake Plastics' injection molding technicians do a full teardown and thorough cleaning of all machine components from the prior run before start-up of new production. It includes screws, barrels and any other machine components that contact the molten polymer, and is a step that assures eliminating cross-contamination of the CT cryogenic polymer on a subsequent run. Dedicated dryers for each resin are an additional measure that avoids mixing polymers.
Versatile Size Range
The range of machine sizes in Drake Plastics' molding operation afford customers an array of part size options. Rated from 35 to 300 tons, our capabilities can turn out injection molded components from 0.85 grams (0.03 oz.) to 567 grams (20 oz.). This provides customers a range of molded parts from small cryogenic ball valve components to turboexpander seals.
Control Systems and Procedures for Consistent Quality and Physical Properties
Our all-electric molding machines operate accurately, efficiently and cleanly with no risk of contamination from hydraulic fluid leakage or spills. To avoid degradation and loss of properties during molding, Drake Plastics' technicians size the barrels on each machine to minimize the length of time that the molten cryogenic grade polymer remains at its melt temperature.
Drake Plastics also incorporates RJG process monitoring systems in all machines. The technology enables our operators to monitor and control what is occurring within the mold cavity, and maintain processing conditions that yield components with consistently high quality and optimum performance.
Cross-section Integrity in Large Sealing Components
When molding large cryogenic seals and related components in Victrex CT-100 or CT-200 resin, maintaining homogeneity throughout heavy cross-sections is essential. Drake Plastics' Toyo machines are equipped with injection-compression technology to achieve this. They compress or "coin" the polymer melt during molding, yielding seals and similar critical components that are free of porosity and voids. This adds another level of consistency for critical sealing applications like those employed in cryogenic storage and transport.
Drake CryoDyn® CT-200 Stock Shapes for Machined Prototypes and Components
Drake Plastics' extrusion operation converts Victrex CT-200 resin into Drake CryoDyn® CT-200 rod and plate in a wide range of stock and custom sizes for precision machined cryogenic components. CryoDyn® CT-100 shapes are available made-to-order with a minimum quantity requirement. This capability affords customers access to machined prototypes that can help validate a component's design and performance prior to finalizing injection molding tooling. Drake Plastics' CNC machining operation can also provide production quantities of machined parts if needed as an interim step before injection molding.