Thermoplastic for Extreme Temperatures
CYPRESS, Texas, March 20, 2018 (GLOBE NEWSWIRE) — Drake Plastics Ltd. Co. announces the introduction of a new high strength, insulative material based on Torlon® PAI. Drake PAI 5060 is a highly loaded composite with 60% fiber reinforcement. Prior to the introduction of Drake PAI 5060, the maximum reinforcement available in PAI was 30 percent.
Drake PAI 5060's balance of extremely high modulus (stiffness), minimal CLTE (dimensional change with temperature) and machinability make it an excellent upgrade to difficult to fabricate high-performance polymers or ceramics. Tensile tests confirm the modulus is more than 50% higher than glass reinforced PEEK, while the thermal expansion is reduced to the range of steel.
Drake's proprietary extrusion process was key to commercializing this material. The high reinforcement makes injection molding of 5060 impossible with conventional technologies. Len Wojtaszczyk, Injection Molding Manager summed it up by saying "molding this material is like trying to form granite-it can be done but takes lots of temperature and lots of pressure." Drake's unique injection molding capabilities have overcome the challenges of this highly reinforced PAI polymer and molded parts are also available.
Machined specimens from Drake 4.0" extruded stock yield the following properties:
[table id=1 /]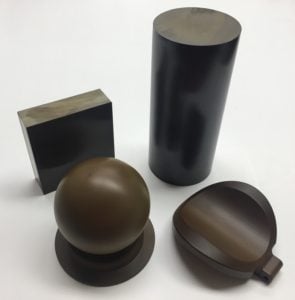 The most amazing characteristic of this material is its strength retention and creep resistance at elevated temperature. The compressive modulus is 2X that of Torlon 5030 and the compressive strength is 1.5 times higher. There is no thermoplastic that offers better performance than PAI and this new material surpasses Carbon Fiber reinforced Torlon 7130, the strongest of the commercial Torlon grades. According to Gary Brooks, Drake's Chief Technology Officer, ordinary non-reinforced PAI is stronger and stiffer at 400°F than PEEK is at room temperature. Drake PAI 5060 increases this difference while offering lower thermal expansion compared to all other reinforced thermoplastic polymers. Interest in this polymer has been great within the aerospace, semiconductor and oil and gas industries due to its strength, toughness and machinability. Investigations are under way in ultra-high voltage applications as well.
Rod is available in ½" (12.7 mm) up to 4.0" (102 mm) diameter and plate is available up to 1.75" (44 mm) thick on a made-to-order (MTO) basis. Drake makes samples of stock sizes available for qualified customers and applications.
About Drake Plastics
Founded in 1997, Drake Plastics pioneered the production of stock shapes from glass reinforced Torlon 5030 in support of the Javelin Missile Program. Drake offers a continually expanding portfolio of machinable shapes, injection molded parts and precision machined components from Torlon and specialty PEEK. Drake is an ISO 9001-2008 registered, lean manufacturer. Waste and inefficiency are relentlessly driven out contributing to Drake's ability to develop and produce unique, high quality engineering plastic products. Drake delivers to customers around the world, on time with exceptional service and support.
Drake Plastics Ltd. Co., The Torlon Specialists, Drake Research Ltd., and The Specialty PEEK Specialists, use the Seamless Tube® Trademark under license from Drake Plastic Products Inc. Learn more at www.drakeplastics.com
Press Contact:
Susan Racca
(281) 255-6855
susan@drakeplastics.com
For More Information:
Mike Oliveto
(281) 255-6855
inquiries@drakeplastics.com