Ultra high-performance polymers for semiconductor device manufacturing applications.
High volume production of semiconductor devices involves vastly different and challenging environments for the polymer parts required for each process step.
From manufacturing and handling wafers through microchip production and device testing, parts made from Drake Plastics ultra high-performance polymers serve a vital role. Critical performance factors for these materials include the ability to withstand exposure to low and high temperature extremes, endure plasma and aggressive chemicals with minimal erosion and low ionic impurities which contribute undesirable contaminants to processes, and withstand high mechanical stresses and repeated frictional contact. Materials must also deliver consistent dimensional stability and quality in precision parts through the life cycle of a device to preclude variations in part dimensions or material composition that might disrupt high volume semiconductor manufacturing and testing.
Drake developed its offering of ultra high-performance polymer shapes and injection molded parts to meet the demanding requirements of applications that are critical to supporting semiconductor manufacturing. Drake-produced Torlon PAI and PEEK stock shapes for precision-machined parts and injection molded parts are resistant to process chemicals and plasma under vacuum environments. They maintain their stiffness and precise dimensions in finished parts through extreme temperature swings that can range from cryogenic levels to 500°F. Compared to other polymers, they offer reduced wear and erosion resistance in many environments to minimize particulate contamination and ionic impurities which can be deposited on the in-process silicon wafer causing shorts and other defects.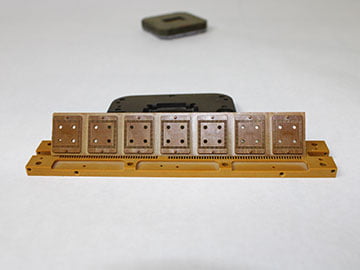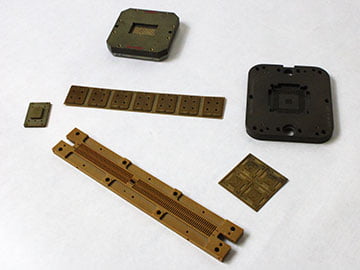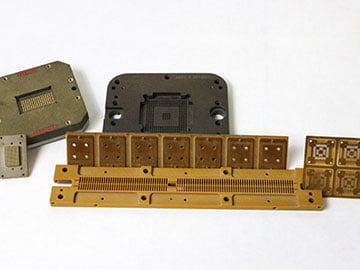 Recognized for its leading position in ultra high-performance polymer parts and shapes, Drake offers a portfolio of Torlon PAI and PEEK grades to serve different application requirements effectively. Each has physical and chemical properties tuned to endure the widely different semiconductor production environments. Coupled with Drake's unmatched variety of sizes and configurations, these different grades provide options to achieve the best possible balance of performance and cost-effectiveness.
Applications for the Semiconductor Industry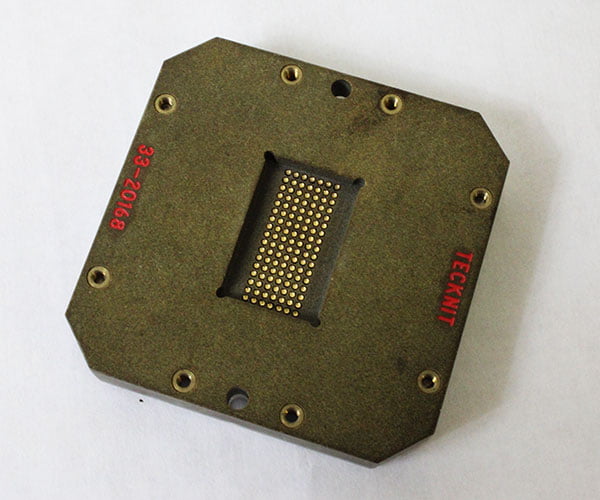 Reticle pins: Machined from Drake 4200 PAI extruded rod, this high performance polymer material meets the need for exceptional wear resistance, low ionic impurities and good dimensional stability.
Chamber hardware: Precision parts such as threaded socket cams are machined from Drake extruded Torlon 5030 rod for its high strength and stability under load. Other components requiring less rigidity at high temperatures are machined from Drake 4200 PAI and Torlon 4203L.
Chamber probes: Components machined from extruded Drake 4200 PAI, Torlon 4203L, Torlon 5030 and PEEK rod resist chamber environments including plasma and allow process monitoring free from electromagnetic noise or interference.
Screws and threaded inserts for all-plastic FOUP (Front Opening Unified Pods): Drake injection molded carbon fiber reinforced PEEK parts provide the strength necessary for these components while eliminating the risk of metallic contamination on 300mm wafers in storage and transit within the Fab.
Test sockets for final device testing: For long-term resistance to compressive set and wear, low CLTE test sockets in many configurations and types are machined from Drake-supplied Torlon 5030 and Torlon 4203L. Drake also produces custom materials for test sockets to meet other specific customer requirements including electrostatic dissipative properties (ESD), lower CLTE and higher compressive strength.
Beyond the physical properties of ultra high-performance polymers, the process conditions for converting these materials into stock shapes or injection molded parts also impact how parts perform in semiconductor manufacturing environments. Drake's investments in the development of true state-of-the-art extrusion and injection molding control technology provide a clear path to achieving "copy exact" requirements consistently and reliably. Tight control over both incoming raw materials and our processes ensures consistent dimensional stability of precision finished parts under the diverse and severe conditions encountered in IC production.
Once specified for an application, Drake products also provide consistent quality through an application's life cycle, thanks to the company's rigorous AS9100D Quality Management System and our unique process control technology.
Ongoing process and product development at Drake is also driven by the semiconductor industry's concurrent innovations in IC designs that dictate new and more efficient sizes and configurations of stock shapes in ultra high-performance polymers. Our unmatched stock shape size range and the ability to develop new larger and smaller sizes of rod, plate and tube allow engineers to take advantage of the properties of these polymers as their part configurations evolve. Also, the availability Drake's scientifically molded parts and leaner sizes of stock shapes that are close to finished part dimensions contribute significantly to cost-effectiveness by reducing material waste in machining.
Drake Plastics Solutions for Demanding Semiconductor Applications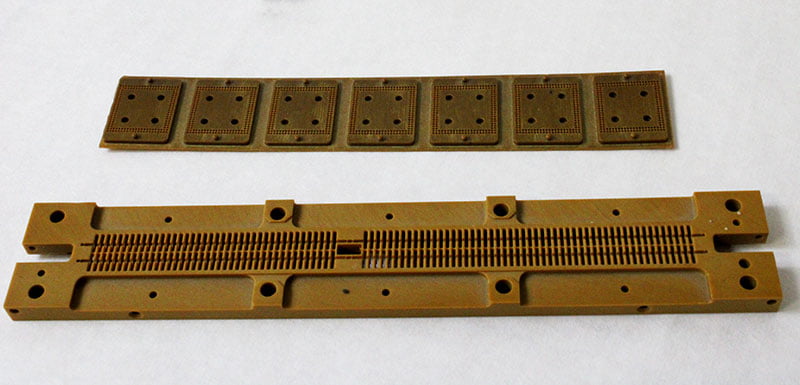 Drake's ultra high-performance polymer shapes for semiconductor applications address concerns about contamination of nano-scale circuitry topography. Drake's Torlon PAI and PEEK stock shapes exhibit excellent resistance to process chemicals and vacuum chamber environments, with minimal outgassing and particulate deposition from chemical erosion of tools and fixture surfaces.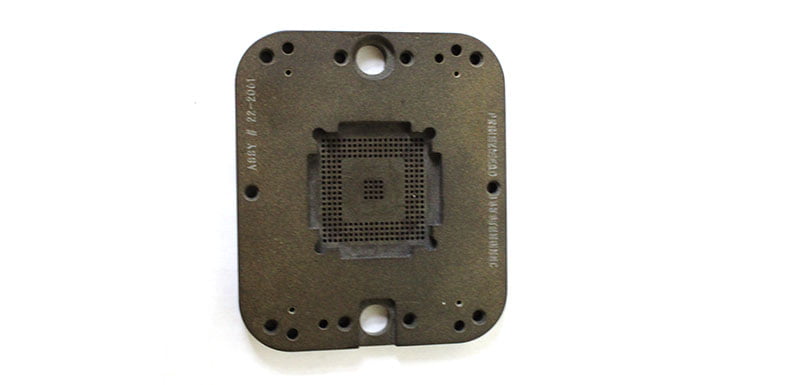 Test components must hold critical tolerances over a broad temperature range, resist wear and stand up to high mechanical loads. The demands also become more stringent with the rapid innovations in IC designs. Drake offers Torlon and PEEK grades with the physical properties and consistent dimensional stability needed for reliable performance and long life in these critical tolerance applications.
Semiconductor Parts | Manufacturing Semiconductor Applications
January 7, 2020