Ultem PEI (polyetherimide) falls within the polyimide family of ultra high-performance polymers. But unlike traditional polyimides like Vespel PI, it has a unique polymeric structure that makes it melt-processable by injection molding and extrusion.
The Ultem resin product line comprises an exceptionally diverse range of formulations. In addition to unfilled grades, the polymer is available with different levels of glass fiber reinforcement for added strength, and a number of other additives that provide performance features tailored to specific applications and processes. Ultem biocompatible grades per ISO 10993 or USP VI are also available for molding and extrusion.
Drake Plastics injection molds a range of Ultem grades into components for aircraft, medical and healthcare equipment, electrical and electronic devices and other high technology applications. Our extrusion team also extrudes glass reinforced Ultem 2300 into unique Seamless Tube available from stock, and offers rod and plate in different grades on a custom basis for machining prototypes and production parts.
Key Properties and Typical Applications for Ultem
Its use in many demanding applications in high technology industries attests to Ultem's combination of performance attributes. They include inherent flame resistance as evidenced by its UL V-0/5V ratings, essential for many electrical and electronics components. The material meets the flammability and low smoke generation requirements for various aircraft applications. Ultem also withstands extended exposure to steam and hot water, and resists many different chemicals. These features lead to its specification for sterilizable medical devices. Its excellent electrical properties and strength at temperatures as high as 200°C / 390°F add to its performance characteristics.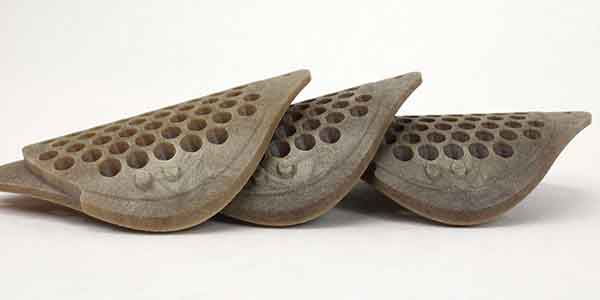 Optimized Process Conditions for Injection Molding Ultem
As with all high-performance polymers, processing conditions during injection molding significantly affect the physical properties of Ultem in finished components. This can be a particularly important consideration for formulations that contain specialized additives intended to improve the material's inherent properties.
Drake Plastics takes several measures to define and lock in the molding conditions that will achieve optimum performance from each high performance polymer we process.
Initially, our technical team analyzes each grade of the thermoplastic to define its melt flow and melt stability traits. This characterization translates to injection molding conditions and a polymer melt heat history that prevents degrading the material's physical properties.
During the injection molding process, Drake Plastics utilizes process control technology that maintains the ideal conditions for each polymer and formulation. The control system is installed within the mold itself, monitoring and maintaining the targeted melt temperatures and pressures for Ultem as well as the other high-performance polymers we process.
Injection Molding Ultem Parts with Heavy Wall Sections
High-performance polymers like Ultem require high melt temperatures during molding. In parts with thick wall sections, proper cool-down is especially important to prevent internal stresses that can cause cracking.
Drake Plastics is recognized for its unique ability to melt process high-performance polymers in extremely heavy sections. In addition to injection molding heavy-walled parts, we extrude machinable rod in diameters up to 256.7mm (10.125"), and plate in thicknesses to 101.6mm (4.0") – by far the largest sizes in the industry.
Heavy walls in components molded from from high-performance polymers can also be prone to internal porosity and voids if not processed properly. Drake Plastics uses injection-compression molding machines to alleviate this problem. The technology involves compressing or "coining" the parts, and effectively prevents voids and porosity from occurring.
Capabilities for Injection Molding Small and Large Parts in Ultem
Drake Plastics' injection molding presses are rated from 35 to 300 tons, affording customers a versatile range of components from 0.85 grams (0.03 oz.) up to 567 grams (20 oz.). This mix of capabilities gives customers a one-stop injection molding source for diverse part sizes.
Quality Management for Injection Molded Ultem Parts
The quality management system at Drake Plastics meets the aerospace industry's rigorous AS9100D(2016) and ISO 9001:2015 standards, and applies to everything we manufacture. Our protocol includes measures that avoid cross-contamination of polymers slated for molding. Rather than simply purging after a production run, our technicians do a complete teardown and thoroughly clean screws, barrels and other surfaces that contact the melt before the next start-up. In addition, we assign dryers to each type of polymer to avoid mixing high-performance plastics like Ultem with incompatible materials or grades with different additives.
Ultem Stock Shapes for Machined Prototypes and Production Parts
Drake Plastics extrudes various grades of Ultem into rod and plate on a custom order basis, and as a service to our molding and machining customers, we offer reasonable minimums. We also extrude glass-reinforced Ultem 2300 into our unique Seamless Tube, a cost-saving alternative to machining the core out of rod for components such as seals.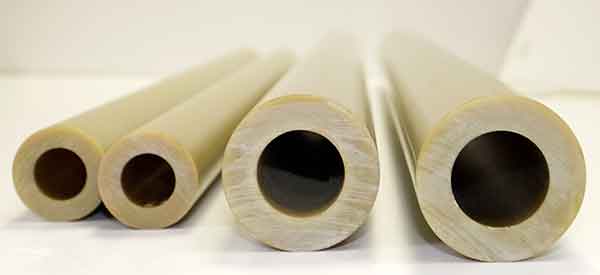 These stock shapes give customers ready access to machined prototypes for design and material validation prior to finalizing their injection molding tools. Drake Plastics can also provide production quantities of CNC-machined components in the specified grade of Ultem if required while awaiting final tooling for injection molded parts.