Near Net Shapes: Cost-effective
Solution for Mid-Range Production Volumes
When machined part production quantities increase significantly but are still below levels that justify precision-tolerance injection molding tooling, near-net shapes provide a cost-efficient solution.
What Are Near-net Shapes?
Near-net shapes are simply injection-molded or extruded shapes or blanks that approximate the dimensions of the desired part. They are injection molded in low cost tooling that performs well for mid-range production quantities and loose dimensional specifications. These near-net sized blanks are then finish-machined to the exact dimensions and tolerances specified for the part.
What Are the Benefits of Near-net Shapes?
One major benefit of using near-net shapes is that they serve as a cost-effective bridge from machining parts from rod or plate to injection molding parts as production quantities increase.
Precision-machining from stock shapes is ideal when part geometries can be machined efficiently, for parts of varying wall thicknesses or where production quantity requirements are relatively low. In addition, machining is recognized as the go-to production method for parts with extreme complexity that cannot be achieved readily by injection molding. Injection molding on the other hand is the best option for producing precision finished parts that have relatively uniform wall thicknesses in high quantities.
Transitioning to near-net shapes capitalizes on the benefits of both these production methods. injection molding the shapes to their approximate specified dimensions offers fast turn-around time and economy of scale for mid-range unit volumes of parts. As a final step, finish-machining the near-net shapes to specification provides the precision tolerances and whatever degree of complexity the component's design dictates.
Machining parts from stock shapes can consume a significant amount of material to achieve the finished part design. Drake works with its machining customers to minimize material loss by carrying the industry's widest range of rod diameters, plate thicknesses and Seamless Tube dimensions. As a result, we can provide the most efficient stock shape size possible for each machined part. However, custom extruded profiles or injection molded near net shapes as machining "blanks" is inherently even more material-efficient by design. With advanced polymers, the cost-savings in material can be particularly substantial.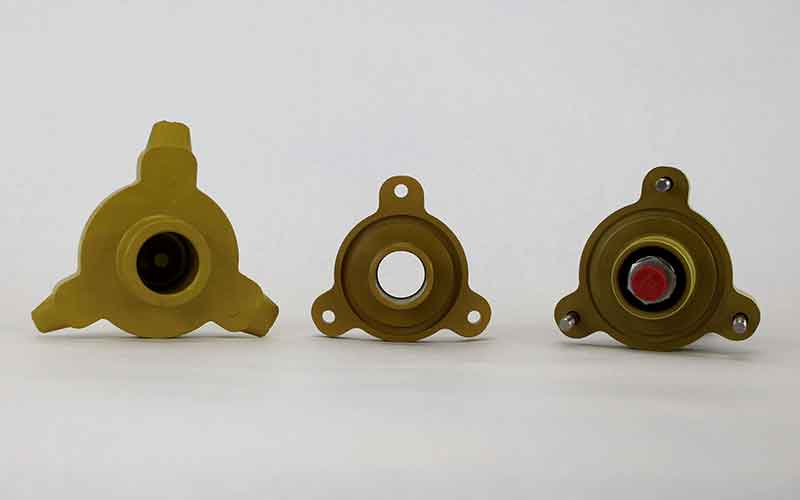 Why Are Tooling Costs Low for Injection-Molded Near-net Shapes?
Full-scale injection molding tooling is highly engineered and can be very complex. Molds are designed to produce parts with consistently precise tolerances and with complex features and configurations. Mold surfaces are critical; they must yield as-molded parts that meet specified aesthetics and finish requirements. Molds must also be built using materials of construction and internal components that hold up under extreme internal pressures and temperatures over extended high volume production runs.
Tooling for near-net shapes by contrast has lesser demands placed on it. Because the machining step imparts the specified surface finish, the mold surface does not have to be of exceptionally high quality. Complex features such as fixturing holes and undercuts can also be machined into the near-net shape, allowing mold to have simpler designs. With mid-range unit volume production requirements, materials of construction also can be less robust, as molds for near-net shapes do not have to withstand the demands placed on high-volume injection molding.
What Advanced Polymers Does Drake Offer in Near-net Shapes?
Drake understands the importance of conforming to material specifications as our customers transition parts between production methods. For this reason, we routinely offer the same or comparable advanced thermoplastics in the form of machinable shapes and molded parts.
Our customers can confidently move from a part machined from one of Drake's stock shapes to a near-net shape in the same or comparable high-performance material. This encompasses the diverse resin formulations we offer in shapes made from Torlon, Victrex and KetaSpire PEEK, Ryton R-4 PPS, Ultem and AvaSpire PAEK. It also includes Drake PAI and our Industrial Grade PEEK products.
As new resins like Solvay's High-Temperature PEEK XT and Victrex' cryogenic PEEK-based CT 200 resin are commercialized, Drake is also quick to develop the technology for extruding shapes and molding parts from these problem-solving advanced polymers.
Customer Support Through Production Transitions
Many of our customers take advantage of our prototyping capability and our comprehensive test lab to assess performance as production progresses from machined parts to near-net shapes and ultimately, injection molding. While materials may remain the same, differences in production techniques may require fine-tuning of part configurations. Drake can also provide part testing services to ensure conformance to expectations. We can also produce prototypes quickly so that customers can test parts in their application environment for final validation.
Lean Manufacturing: The Drake Culture
Drake takes the long term view in working with customers to deliver the best value as products go through life cycles. Our commitment to lean manufacturing practices is evident in our range of size-efficient rod, plate and Seamless Tube stock shapes for machining. It also extends to our offering the advantages of finish-machined near-net shapes as a cost-saving progression from machined parts. Customers also work with us to complete the cycle by tapping the resources of our state-of-the art injection molding facility and the expertise of our engineers when volumes justify the tooling investment and part geometries allow.