The development of Seal Segments® reflects Drake Plastics' drive to offer customers leaner, more cost-efficient and performance-reliable alternatives to traditional approaches for producing critical components. With no practical limits on the size range and the low cost of modular tooling to produce them, Drake Seal Segments also open the performance benefits of advanced polymers to bearings and seals for large rotating equipment.
Higher Performance. Cost-Effective. Unlimited Size Range.
Drake's development team devised unique melt-process technology to produce Seal Segments. These extruded arcs are produced to the specified radius, thickness and wall, then finish-machined to the exact dimensions required for each seal. The machined arcs can be combined to form split seals or segmented seals and bearings. To service a broad spectrum of application requirements, the size range of Seal Segment arcs covers seal diameters from 12 inches (300 mm) minimum and larger. There is no upper limit. Presently Drake's largest Seal Segment is used to make a 40 ft. (12.2 meter) diameter seal.
One of the key features of Seal Segments is that they enable two-piece assemblies, or in the case of segmented seals or bearings, fewer pieces than are traditionally required. Because they are produced to dimensions close to the finished part size, they reduce material and machining costs compared to splitting over-sized compression molded tube or cutting arcs from extruded plate. The resultant benefits include lower cost to manufacture seals, and reduced leakage paths for improved sealing effectiveness when seals are made from fewer pieces.
Given the aggressive chemical environments, pressures and temperatures involved in many sealing and bearing applications, Drake offers Seal Segments made from various grades of Torlon PAI, Ultem PEI and PEEK. These advanced thermoplastics offer different combinations of mechanical properties, resistance to high temperatures and chemicals and bearing and wear performance to meet diverse application requirements.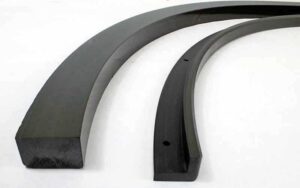 Tooling costs for Drake Seal Segments with customer-specified ID radius, wall section and thickness are modest, with short lead times measured in weeks for both tools and production runs thanks to our modular tooling design.
Drake offers Seal Segments as blanks for customers to finish-machine to their required dimensions. We also offer machining services to provide customers with precision-machined parts to print and ready for assembly.
Cost-efficient Seal Production
Traditional methods for making large seals from high-performance polymers such as Torlon and PEEK are characterized by significant material loss and inordinate machining time. One approach involves splitting compression molded tube, banding or pinning the two halves together, then machining them to a roundness specification. Another method uses pieces that are cut from extruded or compression molded plate. In both cases, substantial labor hours are needed to cut, fixture, and machine the rough seal sections to a specified blank configuration. The blanks are then precision-machined to the final dimensions for each seal or bearing.
By starting with Drake Seal Segments, our customers bypass these labor-intensive steps and go directly to making parts. Drake produces Seal Segments as arcs with dimensions that closely approximate the specified dimensions of the finished seal. They are then finish-machined to print efficiently and quickly with minimal material loss.
Compared to producing seals from compression molded tube, Drake Seal Segments can cut costs of a finished seal ring by 50% or more due to the reduction in material loss and machining time. They are also supplied as arcs that conform to the shape of the seal ring and can be finish-machined and assembled into rings quickly and easily.
Seal Segments can yield an even greater cost advantage compared to cutting arcs out of extruded or compression molded plate. The reduction in material loss alone with Seal Segments can mean more than a four-fold cost savings.
Performance Consistency and Reliability
The Torlon, PEEK and Ultem resins Drake uses to produce Seal Segments are highly uniform, lot-to-lot and resin certifications for each batch are provided to confirm conformance to each material's respective standard. Furthermore, the tightly controlled melt-process technology Drake developed for producing Seal Segments yields machinable arcs in Torlon PAI, Ultem PEI and PEEK that are uniform in their composition, regardless of resin formulation. These factors contribute to consistently dependable quality and predictable performance in every Seal Segment produced.
Conversely, compression molding of heavy-walled tube is prone to variations that can lead to variability in quality and physical properties. Inconsistencies in moisture control, trapped air in molds, pressure decay from frictional losses along the sidewall of tooling and indirect control of pressures and temperatures can all result in non-uniformity in the material being processed. Also, polymers have inherently low thermal conductivity. Heating them to achieve compression molding temperatures can require long thermal residence times that degrade the polymer and its physical properties. Configurations with thick cross-sections that require longer thermal cycles to bring the material to mold temperature throughout can be particularly susceptible to this problem.
Drake's proprietary melt process technology yields consistent physical properties that exceed those of traditional compression molded products. The performance profile of Seal Segments routinely aligns with resin suppliers' data sheet values. Drake also maintains 100% traceability and provides Material Test Reports and certifications confirming the resin's compliance to Mil, AMS or ASTM standards per customer requirements with all shipments. Compression molded products are not certified to these rigorous standards.
With Seal Segments available in a diverse range of Torlon, Ultem and PEEK formulations, engineers can choose the performance profile that most effectively meets their application requirements.
Note: Contact us for detailed information on different advanced thermoplastics grades for Drake Seal Segments. Our engineers will help define material candidates based on specific application requirements.
Why Torlon Seal Segments:
Torlon PAI is recognized for its superior strength, and the ability to maintain it at high temperatures. Its glass-transition temperature (Tg) or softening point of 537°F (280°C) positions it well-above other advanced polymers. Torlon 30% glass or carbon fiber reinforced grades enhance structural strength, and bearing and wear grades improve longevity in dynamic load applications. All grades of this high-performance thermoplastic withstand a wide range of chemicals and are used widely in sealing and bearing applications in the chemical processing and oil and gas industries.
Enhanced performance Torlon grades for Seal Segments include:
Bearing grade Torlon 4301 has a ratio of graphite and PTFE similar to compression molded Torlon 4540 but offers much higher strength and toughness.
Drake also offers an exact match to the Torlon 4540 formulation on request.
Torlon 4275 contains additional graphite powder which dissipates heat more effectively for higher velocity applications.
Torlon 5030 and 7130 are glass and carbon fiber reinforced Torlon Grades for lubricated service as in oil seals or when higher loads and minimal thermal expansion are required.
PEEK is generally regarded as a work-horse polymer in chemical processing and oil and gas equipment applications. It resists an extremely wide range of chemicals, has high strength at elevated temperatures and offers inherently good bearing and wear performance. In addition to an unfilled grade, PEEK is also available in a number of performance- enhanced formulations. Glass and carbon fiber reinforced options offer higher strength, and bearing and wear grades improve long-term performance in dynamic applications.
PEEK formulations with enhanced properties for Seal Segments include:
Unlike many amorphous thermoplastics, Ultem retains its strength and resists stress cracking when exposed to steam, hot water and many chemicals including aliphatic hydrocarbons, alcohols, acids and weak aqueous solutions. It has a glass-transition temperature of 423°F (217°C) and good overall mechanical properties.
Performance-improved Ultem grades for Seal Segments include:
Ultem 2300 with 30% glass fiber reinforcement
High strength carbon fiber reinforced grades
Bearing and wear resistant formulations
Seal Segment Applications
With a current size range that spans diameters from 12 inches (300mm) to 40 ft. (12.2 meter) and has no upper limit, Drake Seal Segments afford performance benefits and cost-efficiency for numerous large diameter applications including:
Large centrifugal pump seals
Turbo compressor labyrinth seals
Turret bearings and seals
Marine shaft seals
Blast furnace seals
Case Study: Torlon Seal Segments for the U.S. Navy
The development of Drake Seal Segments allowed to U.S. Navy to capitalize on the long term performance benefits of Torlon 4203 in a dynamic shaft seal assembly. Seal Segments made from Bearing Grade PEEK 450FC30 were also tested concurrently. The higher PV capability of Torlon however led to its qualification and specification for the application. In the actual installation, two Torlon Seal Segments are sub-assembled onto stainless steel holders. The two halves are then installed around an 18" (457 mm) shaft and coupled together as the final assembly.