Drake Plastics is pleased to offer AvaSpire® PAEK machinable shapes and injection molded parts. AvaSpire is complementary to Drake's Torlon and PEEK materials, solving performance gaps in addition to offering improved aesthetics and economics.
CYPRESS,TX January 2016—Drake Plastics is pleased to announce the addition of Solvay's AvaSpire® PEAK, a hybrid PEEK product to the array of high-performance machinable shapes and injection molded products offered by Drake. "AvaSpire is complementary to our Torlon and PEEK based materials and bridging the performance gap between PEEK and Torlon," says Commercial Director, Mike Oliveto. AvaSpire, the newest addition to Solvay's portfolio of Ultra Polymers provides improved toughness over PEEK across all temperatures and higher stiffness above 150° C, as well as significant strength improvement over PPS above 100° C. AvaSpire also offers improved dimensional stability as well as improved surface aesthetics for injection molded parts. Initial shapes stock will include AV621NT, AV621CF30, AV621GF30 and AV651GF30 Black in various rod and plate sizes.
AvaSpire PEAK has solved performance gaps within the life sciences, oil and gas, semiconductor, as well as the automotive industry by maintaining much of PEEK's and PPS's chemical inertness while offering a distinct mechanical advantage in the critical 150° C to 200° C range. Torlon commonly fills this role in less chemical severe service.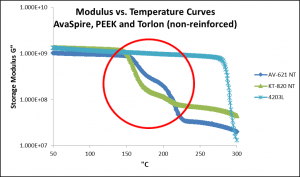 AvaSpire Graph