Are you looking for high performance polymer solutions but can't find a stock material, size or shape that works?
Are you looking for someone to convert a unique polymer into finished or semi-finished form?
Are you in search of a more efficient method to manufacture your service critical parts?
If so… Let Drake's Technology Team apply its material science and processing know-how to convert pellets or powders into shapes and/or parts that meet your commercial and technical needs. Our Technology Team has more than 100 man-years of polymer science and processing experience with some of the world's most challenging polymers. The more difficult and challenging the process window, the more likely you have come to right place!
Drake's in-house resources include:
Mechanical Testing
Differential Scanning Calorimetry
Rheometry (Haake)
Twin Screw Extrusion
UT Inspection
FEA Design Assistance
Nearly 20 years ago Drake developed a process to extrude our trademarked Seamless Tube®. Not only did this process enable tube to be made from very difficult to process polyamide-imide material the properties and machinability and component manufacturing costs are dramatically improved when starting with Seamless Tube. Today, in addition to a variety of Torlon grades, Drake offers Seamless Tube in Ultem 2100, Ultem 2200, Ultem 2300 and Ultem 2400 PEI and all reinforced Radel PPSU based resins on a custom basis.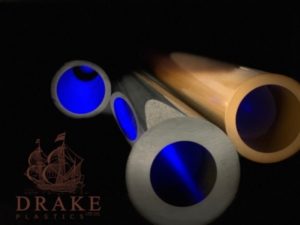 Rather than look at a problem from the process forward, we look at challenges from the application backwards. Many split seals especially large parts like those used in rotating equipment or over large shafts start as compression molded rings or as curved segments machined from plate. Large molded rings must be split and reassembled for machining and machined segments mean the designer is always balancing part cost and the number of joints needed to complete the 360° seal. Drake's answer is extruded curves called Seal Segments® which are designed and manufactured based on the seal radius, wall thickness and length. Seal Segments enable parts to be made more cost effectively, with fewer joints and better physical properties than compression molded materials. Diameters from 12" up to 200" can be produced as two 180° halves and larger diameters are possible with 3 or more segments.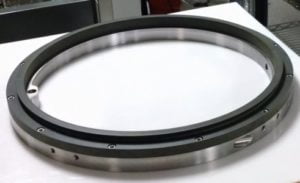 Historically the largest Torlon rod available anywhere in the world was 2" (50mm) and the largest PEEK rod was 4" (100mm) diameter. Today, Drake produces rod in both PEEK and Torlon up to 10" (254mm) diameter in both reinforced and non-reinforced grades. Looking at it from a process standpoint we could have settled for offering plate for such parts. Turning is a much more efficient process resulting in both material and process time savings as well as more uniform machinability especially with reinforced grades. Customers regularly report Drake's large diameter rod as the solution to machining large PEEK and Torlon parts.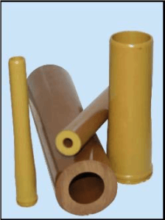 Drake's in-house manufacturing resources include extrusion, injection molding and precision machining meaning we can choose the best manufacturing sequence for your parts considering important issues such as number of parts needed, speed of delivery, precision, cost targets and performance. If you are designing high performance plastic parts and looking for help selecting both the best material and process sequence contact us. We can develop prototypes for you and follow your design changes and delivery needs over the lifetime of a part. Today we deliver molded and machined parts in quantities as small as 25 parts and as large as 500,000 parts.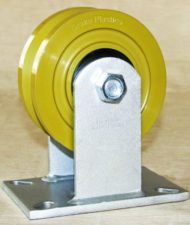 Let us add you to our growing list of satisfied customers!