Slide 1
Your Single Source for Torlon PAI, PEEK and Ryton R4 and Ultem PEI

Drake Plastics, as the industry leader for high performance polymers material selection experts, creates stock shapes, injection molded parts as well as custom prototypes.
Why Torlon?
---
Torlon polyamide-imide is recognized as the highest performance thermoplastic that is still melt processible. Torlon can be extruded into shapes and injection molded into custom geometries.
With a 500°F heat distortion temperature (softening temperature) and a 500°F continuous service temperature, Torlon offers unmatched strength at elevated temperatures. It is stronger at 400°F than other engineering resins at room temperature.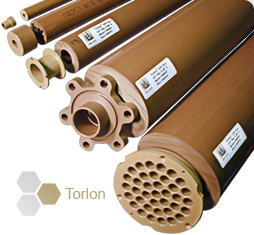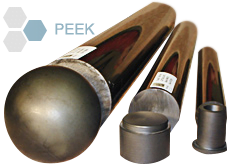 Why PEEK?
---
PEEK is recognized as having the best balance of chemical resistance, wear resistance and heat resistance among all thermoplastics. It is melt processible allowing for processing into shapes by extrusion and parts by injection molding.
Technically PEEK is part of a family of polyarylether ketones (PAEK) but the PEEK acronym is most recognized. Related chemistries based on PEK and PEKK offer unique thermal benefits to the traditional PAEK's.
Drake Plastics – Torlon and PEEK Manufacturing Company
Thank you for the super-fast turnaround on the 7130 bushings. My colleagues and I were really impressed to see parts show up in one day! The parts fit perfectly and have a great surface finish too. Your work is much appreciated.
Thank you all for making this happen so quickly and with no stress.
Thank you for your expert insight regarding high performance polymers and for your company's ability to deliver a matrix of materials and molding processes.
--Mark M.-Product Dev. Eng., Major analytical equipment OEM
…our top reliable supply and technology partner-Drake Plastics.