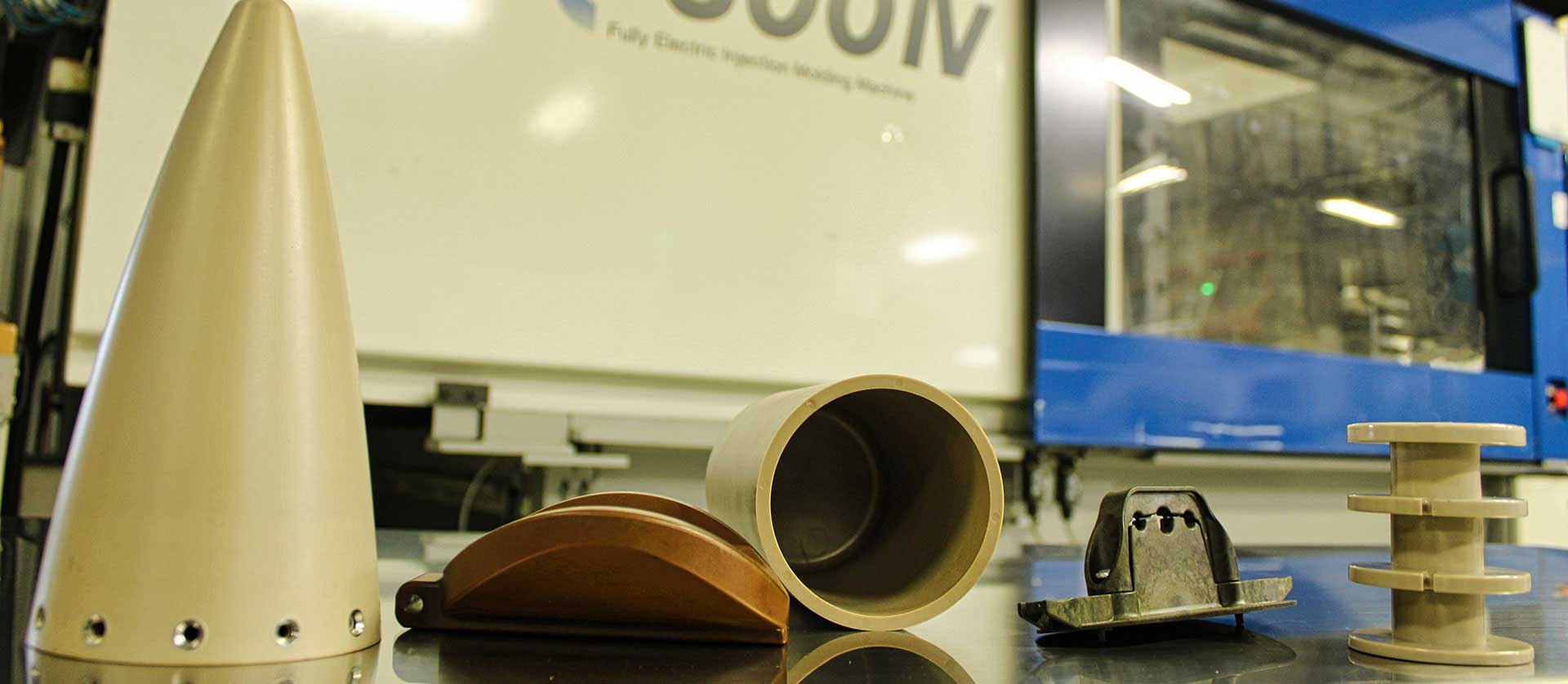 Slide 1
In the widest selection and most cost-effective forms available.
Torlon® PAI • PEEK • Ultem® PEI • AvaSpire® PAEK • Ryton®PPS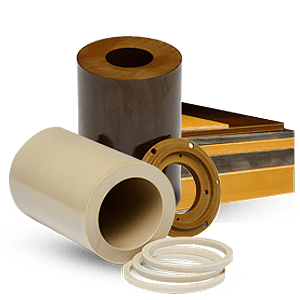 Stock Shapes for Machining
Drake's unparalleled range of stock shape sizes and configurations extends the application range and maximizes machining efficiency of these ultra high-performance polymers.
Injection Molded Parts & Shapes
The science behind Drake's state-of-the-art injection molding operation assures exceptional quality and consistency in molded parts. When critical tolerances and other features are impractical or impossible to achieve with injection molding alone, we can deploy our precision machining capabilities to provide hybrid molded/machined part solutions to meet the specifications required.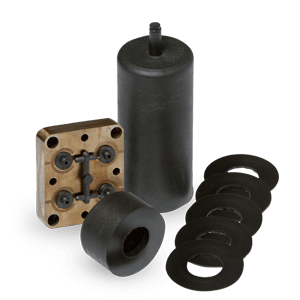 Drake supports and supplies the best polymer-focused machine shops in the world, but some circumstances dictate a direct connection with Drake as the shapes producer. In those cases, our state-of-the-art precision machining, intimate material knowledge, re-curing and annealing, priming, coating, laser engraving, CT inspection, CMM part inspection, mechanical testing, and material and process certifications stand ready to serve challenging and complex customer requirements.
Process & Product Development
Drake extends the application range of high-end polymers by developing new sizes and unique configurations to serve new applications. Our technology also allows us to develop cost-effective custom sizes and shapes to hold material loss in fabrication to an absolute minimum.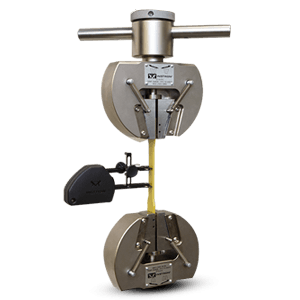 Why Torlon?
---
Torlon polyamide-imide is recognized as the highest performance thermoplastic that is still melt processible. Torlon can be extruded into shapes and injection molded into custom geometries.
With a 500°F heat distortion temperature (softening temperature) and a 500°F continuous service temperature, Torlon offers unmatched strength at elevated temperatures. It is stronger at 400°F than other engineering resins at room temperature.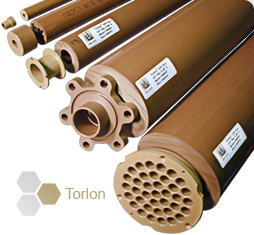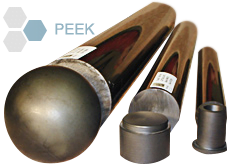 Why PEEK?
---
PEEK is recognized as having the best balance of chemical resistance, wear resistance and heat resistance among all thermoplastics. It is melt processible allowing for processing into shapes by extrusion and parts by injection molding.
Technically PEEK is part of a family of polyarylether ketones (PAEK) but the PEEK acronym is most recognized. Related chemistries based on PEK and PEKK offer unique thermal benefits to the traditional PAEK's.
Drake Plastics – Torlon and PEEK Manufacturing Company
Thank you for the super-fast turnaround on the 7130 bushings. My colleagues and I were really impressed to see parts show up in one day! The parts fit perfectly and have a great surface finish too. Your work is much appreciated.
Thank you all for making this happen so quickly and with no stress.
Thank you for your expert insight regarding high performance polymers and for your company's ability to deliver a matrix of materials and molding processes.
--Mark M.-Product Dev. Eng., Major analytical equipment OEM
…our top reliable supply and technology partner-Drake Plastics.